what i do
Hello and welcome to my tiny piece of the Internet! I am so glad that you found me!
What I do, I call 'soul counseling' and my hope is that through my soul counseling sessions I am able to provide you with advice and guidance directly from your soul and provide you with validation of the truths that your soul already knows.
I am able to make a connection directly to a specific person's soul whether they are living or passed, and also to the souls of animals like dogs, cats and horses. The connection is done prior to your session in private. Afterwards, during your soul counseling session - usually via telephone, I will explain what your soul ( or the soul of your loved one ) has shared with me. What is shared is always for the healing and growth of each soul - everything is done through love and every soul is protected throughout the whole uplifting process.
I have had these abilities my whole life, it is what my earliest memories are made of, but it has only been in recent years that I have finally chosen to share what I do beyond the safety of my very close circle of friends. This website is simply intended to enable the incredible people that I have had the pleasure and privilege to work with, to share what I do with their circle of friends and family more easily.
Please take a moment to read a few of the amazing testimonials that some of my clients so far have shared, they blew me away - just as each of my soul counseling sessions do, and I am so thankful for them all. I love what I do, I learn something valuable from each and every soul that I encounter and am always humbled by each connection. I hope that one day I will have the pleasure of connecting with you!
With love, Mary-Anne
what people say about what i do ...
please note: I am very protective of what I do and my clients' privacy, therefore i have chosen to omit their names from their testimonials.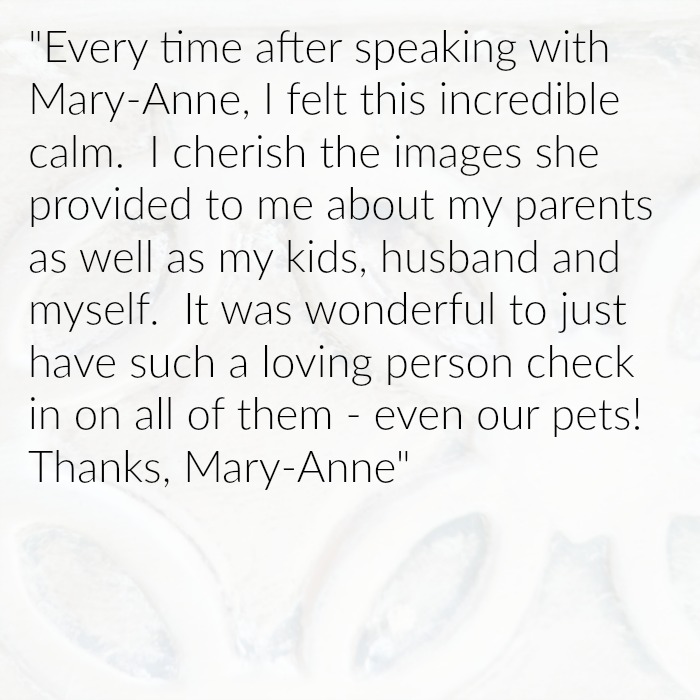 how you can CONTACT me
IF YOU ARE INTERESTED IN SCHEDULING A SESSION WITH ME AND WOULD LIKE TO LEARN MORE ABOUT MY SOUL COUNSELING, PLEASE CONTACT ME USING THE FORM BELOW AND I WILL RESPOND AS SOON AS I AM ABLE - THANK YOU.